Staffordshire Police run a scheme in Primary Schools where children take part in a six-week course known as Police Junior Cadets. To help cater for the number of children wishing to participate in the cadet course,  The Hub works in partnership with the police to deliver sessions in the evening.
New Course starting in September 2018
The next Junior Cadet course will begin in September.  Since this was advertised on Facebook there has been a big response and the likelihood is that we will need to run to courses.
We are currently asking for parents/carers to complete the form which can be found here  (word doc) giving details of the year group of your child.  Please email the form to info@thehubfenton.org.uk call at The Hub.
The course is part of our LeaderLab activities.  LeaderLab runs from 6.00pm to 7.30pm on Thursdays.  £3 per session.
The course is organised by Fenton PCSOs working in partnership with LeaderLab staff.   It is also supported by additional specialist officers from Staffordshire Police.
Junior Police Cadet Course begins 20th September 2018 6.00pm
20-09-18      Introduction    PCSO Washington
27-09-18      Communication
04-10-18      Fingerprints
11-10-18       Forensics
18-10-18      Crime Scene
25-10-18      Road Safety
Programme may change due to Police operational duties.
The Hub has worked in partnership with Staffordshire Police and the PCSOs in Fenton to deliver the junior cadet course for several years.  Some of the junior cadets attended an evening session at The Hub to use their detective skills in solving the mystery of the crime scene.
The young people at LeaderLab have continued to work with the PCSOs in Fenton and have covered all aspects of the Junior Cadet Scheme.  At a recent residential they were involved in following maps to make a thorough search of an area where they were required to look for evidence.
CI Rob Taylor presented Junior Cadet certificates to the nineteen children who have completed the course.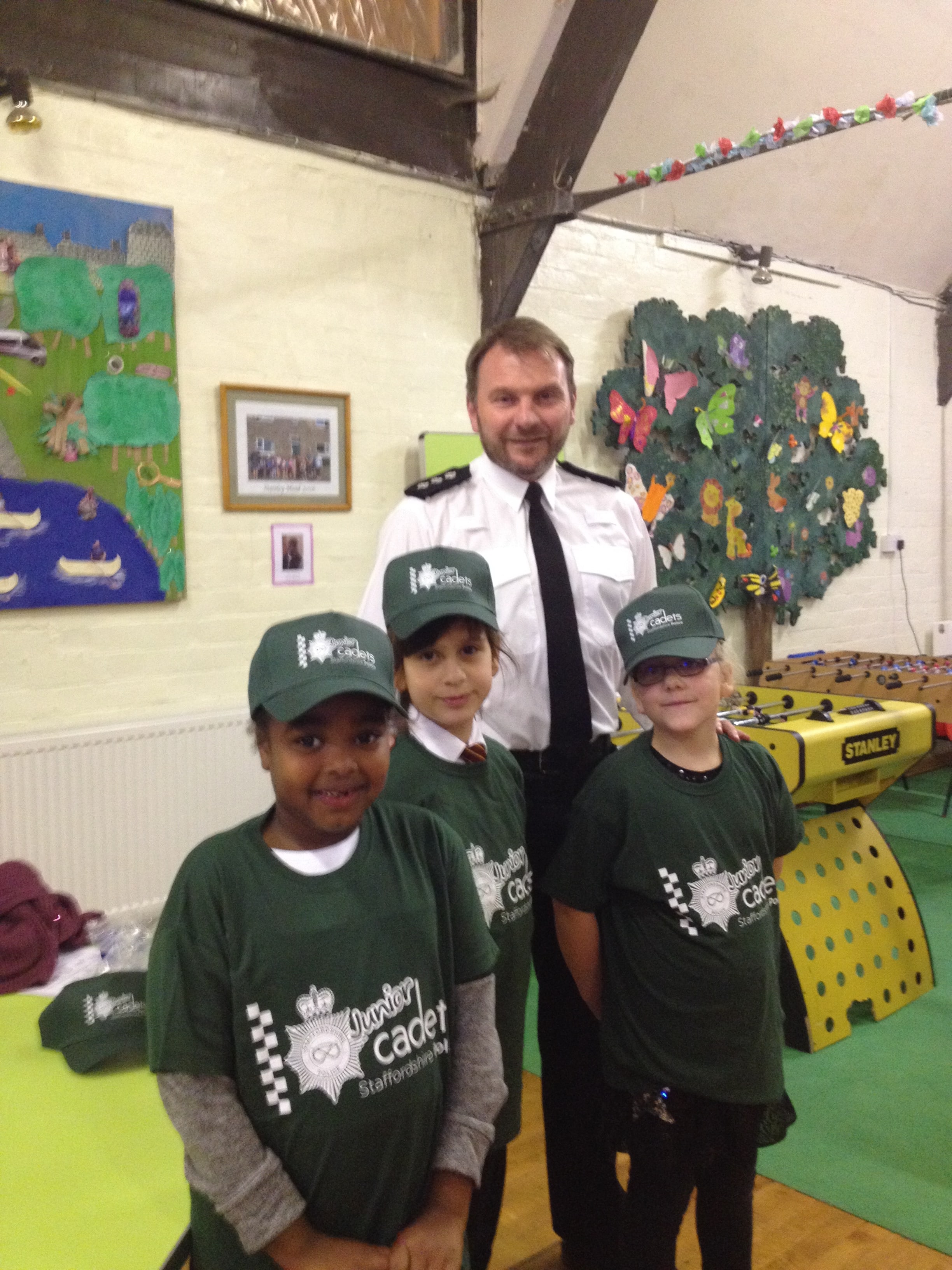 PCSO Paul Washington visited LeaderLab at the end of term and worked with the children to identify potential dangers they might encounter during the school holiday.
Senior Cadets attend LeaderLab to support our work with children in the local community.